Drumroll please!
TKStarley is now Smoof.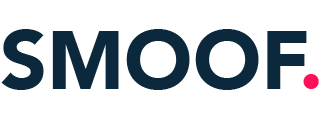 That's right, we've rebranded!
"But why?" we hear you ask.
Good question! When Tom founded TKStarley all those years ago, he was a one-man band, and decided to name his new business to reflect this - he IS Tom Kemp Starley! Since then, the team has expanded - we're now seven awesome individuals - and we've moved home more than once! We've made three new hires in the past six months and felt it was high time that our brand was updated to show the world who we are now. Our rebrand has been in the pipeline for several months, and we're super excited to finally share this news with you.
So why Smoof?
We wanted a name that reflected our nature as a team - fun and unique! Company culture is hugely important to us, which is why we've opted for something a little different when it came to choosing our new moniker - we feel 'Smoof' demonstrates what we stand for as a collective. When we were doing our homework into whether or not it was a feasible brand name, we found the following definition on Urban Dictionary:

That kind of sealed the deal for us - we're definitely all about producing work of great substance!
What does this mean?
If you're a current client of ours, fret not - we're still going to be providing you with the same level of care and attention we always have done. In fact, as part of our rebrand, we've conducted a tonne of market research and did some real soul-searching, and we're now more focused as a team than ever before! Whether you've been with us for years, or you're a relative newcomer, we're dedicated to providing every company we work with with an incredibly high level of service that's geared towards helping your business grow.
We believe Smoof represents who we are now, and this rebrand will help us grow as a company in the coming months and years. We hope you'll join us on this next stage of our exciting journey!
P.S. If you're interested in the logistics of our rebrand, keep an eye on this blog for further posts about the process we went through and how we overcame the issues we encountered along the way.