I have followed Innocent Drinks for quite a while on Twitter. I'm not quite sure why, but they are definitely one of my favourite brands on Twitter and we could all learn from their social presence.
Innocent Drinks are Twitter superstars and a brand that use the social media platform to integrate their marketing campaigns and get themselves seen. With around 214,000 followers, it is clear I'm not the only one who appreciates Innocent Drinks' presence on Twitter.
I believe humanising your brand in all forms of marketing can help your customers understand your company better and develop a relationship with you. Innocent Drinks humanise their brand with regular humour on their Twitter account. A prime example is their #dadjoke which can be seen below; not a fave of mine but seems popular with their followers.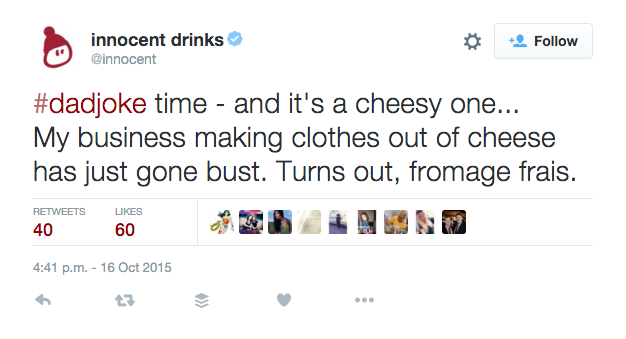 A little more comical and quirky is this tweet about a missing pen. We all know we've been through it; might not have sent out a notice, but definitely unexpected and funny when scrolling through your Twitter feed.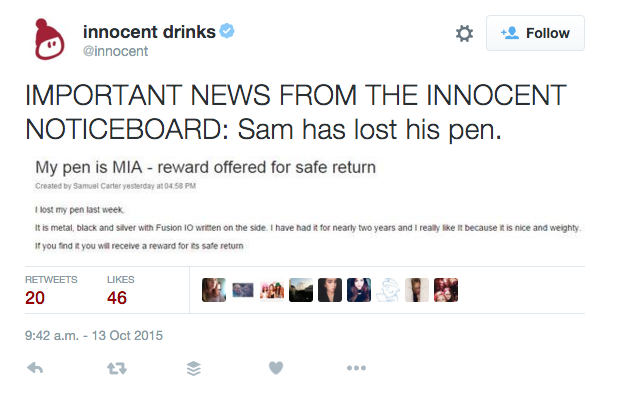 Innocent Drinks are experts in discussing the latest events. Their coverage of the Rugby World Cup games were relatable for anyone watching, informative to others, had a pinch of humour again and show Innocent Drinks' Twitter is more than just a promotional account for their range of products. More recent tweets based on current events have looked at John Lewis' Man on the Moon Christmas advertisement and the latest Twitter changes which changed favourites to likes.

They go above and beyond most brands and can be seen as a caring organisation. Have a look at this tweet they posted on Bonfire Night.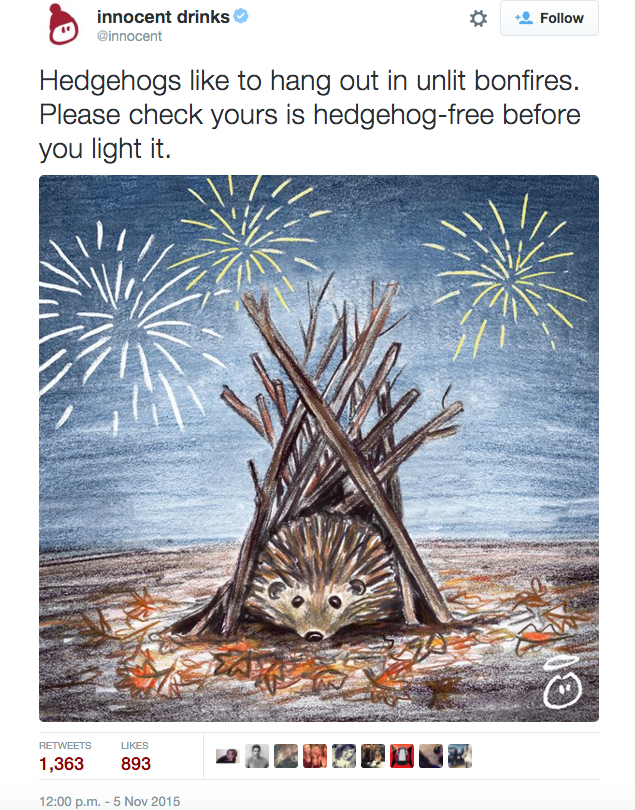 They even tweet during The Great British Bake Off and The Apprentice, two of the most watched programmes in the UK, with Bake Off getting the biggest TV audience of the year. (Everyone loves Bake Off, don't they?)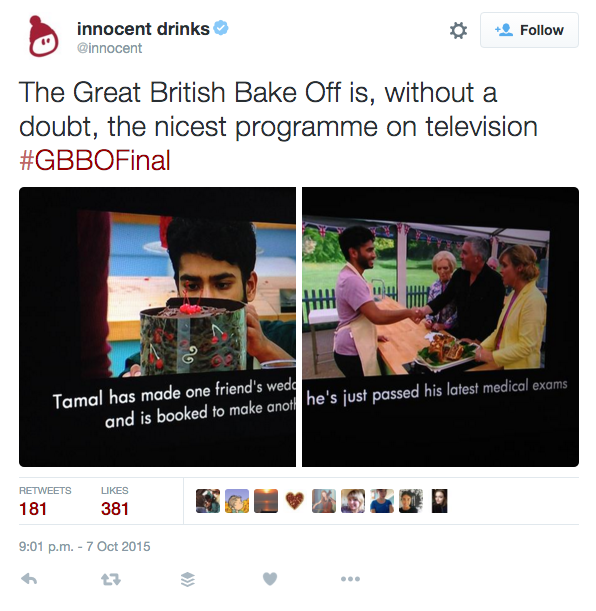 A lot of people love to tweet whilst watching TV and are interested in hearing other people's thoughts are on what has just happened. Innocent Drinks' TV tweets are engaging - just have a look at the amount of people that interact with this tweet during the latest episode of The Apprentice.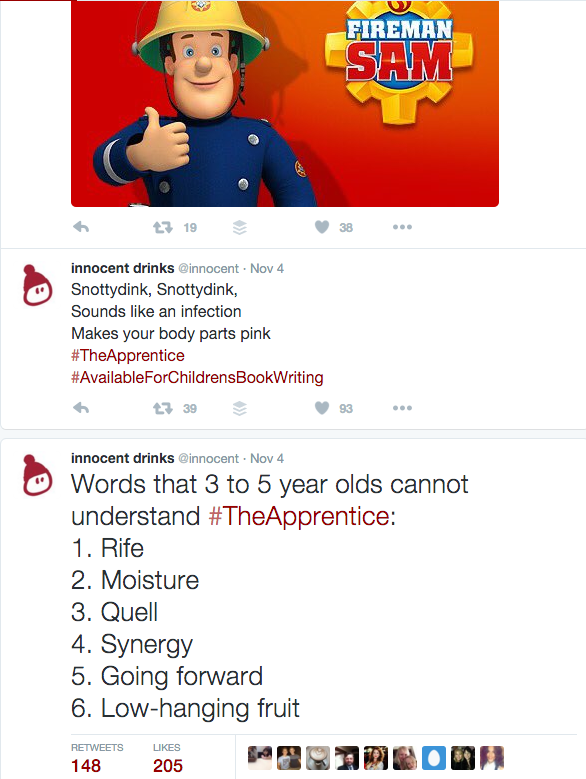 Tweeting or posting on other social media platforms about TV shows may not be viable your business, especially if you're a B2B company, but you can you use the same enthusiasm and post during an industry conference or something that is going on in your business.
Twitter is about engaging with others as well as growing your reach. Innocent Drinks must be super busy in their office replying to the extraordinary number of comments they get a day.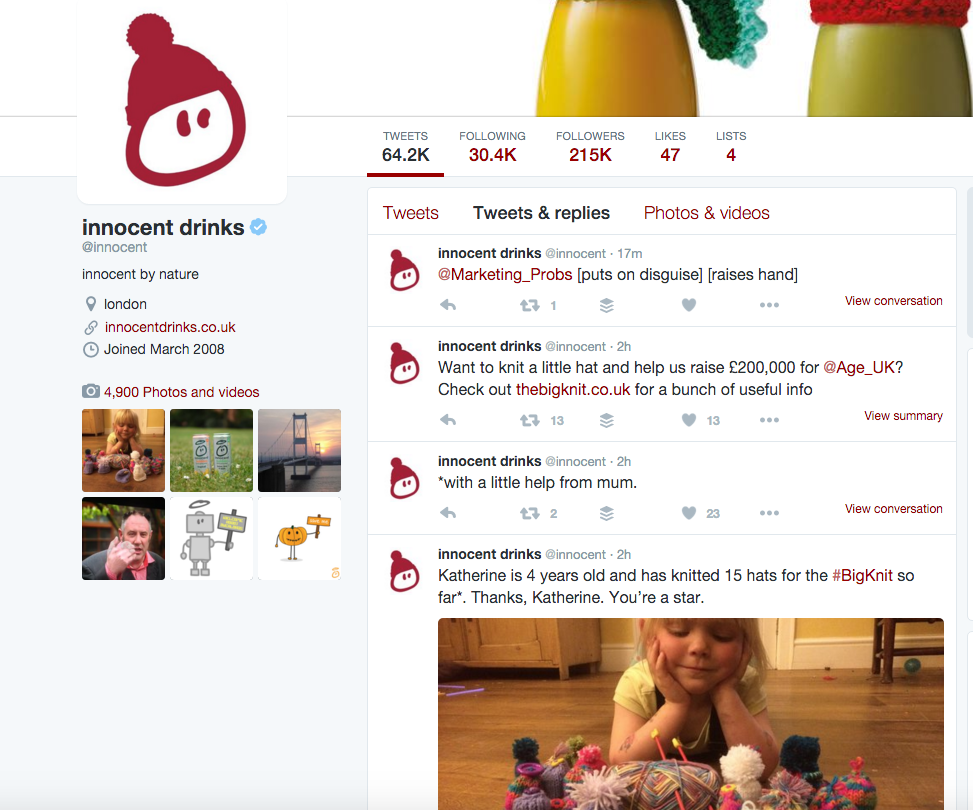 They follow the strategy of responding to all that need responding to, and this is something you should be doing on your social media in a prompt manner.
A key reason brands create an online presence is to promote their products and services - and rightly so. Innocent Drinks do this in a non-pushy way and because of their ever so varied Twitter content they aren't a brand you easily get annoyed with and unfollow quickly.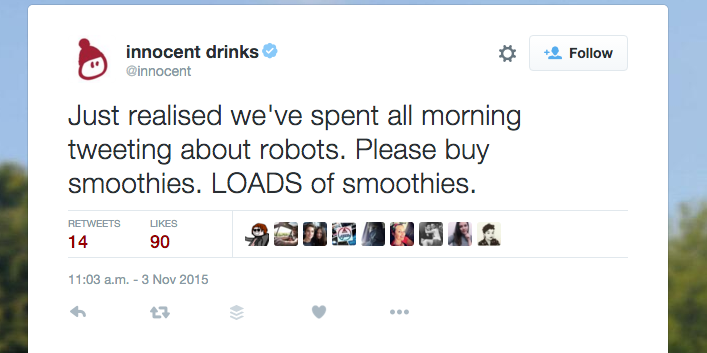 Innocent Drinks integrate what they are doing across their marketing. A great example is the Big Knit, which is their campaign to raise money for Age UK. Innocent Drinks are raising awareness for this campaign by changing their Twitter profile picture to their logo with a knitted hat on top, their Twitter cover photo, tweeting about a great cause and thanking individuals who are taking part.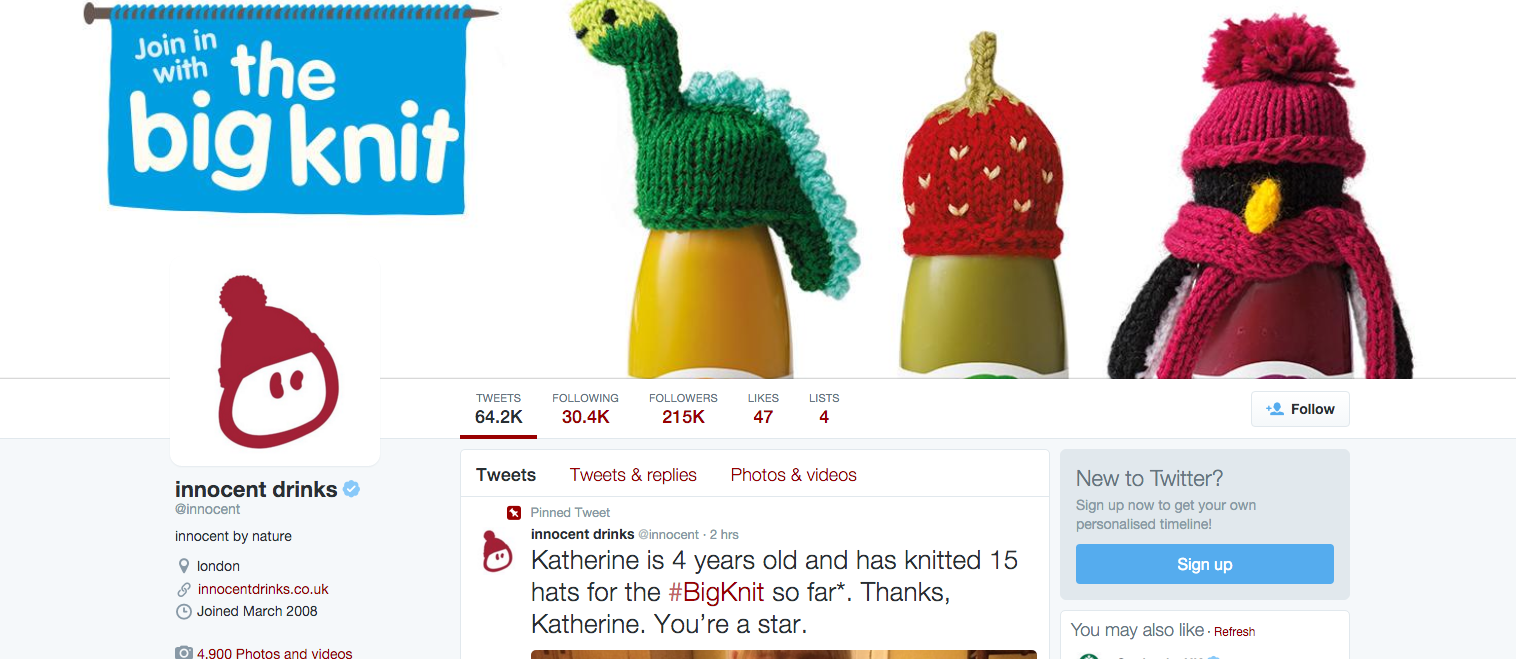 From a quick Google, I saw that Innocent Drinks are doing this across all their marketing channels, increasing the reach and awareness for the cause. Have a look here at their Instagram of the terrific hats that are being made.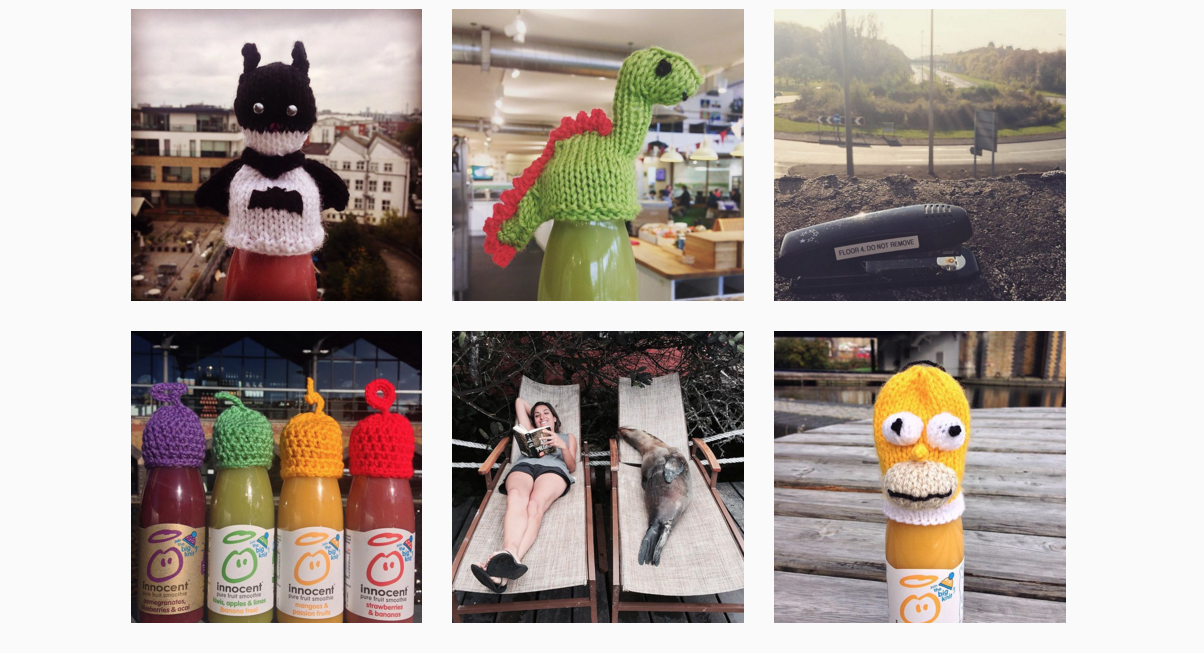 I could literally go on all day (but I won't) and it is clear Innocent Drinks put a lot of time into their social media presence. Not every company needs a team of social media experts, but everyone should make sure they are posting on a regular basis and the content should be engaging and varied. It is important to remember that your brand needs to be consistent and integrated across all your marketing, social, blog, and your own website to create a stronger presence and be more memorable to your customers. But always remember to have fun and be more flexible than tweeting about your services.
If you need help with your social presence or any other aspects of your marketing, don't be shy, say hi! The marketing team and I are more than happy to look through your current marketing and work with you to make it excellent.