The days may be getting shorter, but marketing your brand is even more important during the next few months. As the Halloween pumpkins magically turn into Christmas lights and tinsel with a flick of the wand, Smoof have a look at how ASOS conquered Halloween and how you can learn from their spooktastic marketing.
Start with the social basics
I initially saw @AAAHHSOS! on my Twitter feed and wondering who that was? By changing their Twitter name ASOS made a small change to get themselves noticed during the Halloween period, and it definitely worked. I was so intrigued to find out about ASOS's Halloween marketing that I went on their main Twitter page and found they had also updated their cover photo to celebrate the event.
If you don't feel like you have the time or budget to do a big marketing campaign, I would start with the basics. It is advised that you change your cover photo every few months and I would do so by keeping to the main themes of seasonal events such as Halloween, Christmas, Easter and Summer. Even if you feel getting a bit more festive doesn't work well for your brand, you should still change your social images on a regular basis, showing off your services and hard-working team.
Keep your social integrated
If you are on multiple social media platforms, which you should be, don't forget to update your profile to fit the mood of the season or event that you are focusing on. This really shouldn't take long and will present the same brand message to all your followers on each platform. A unified brand message across all marketing channels emphasises your purpose to your customers.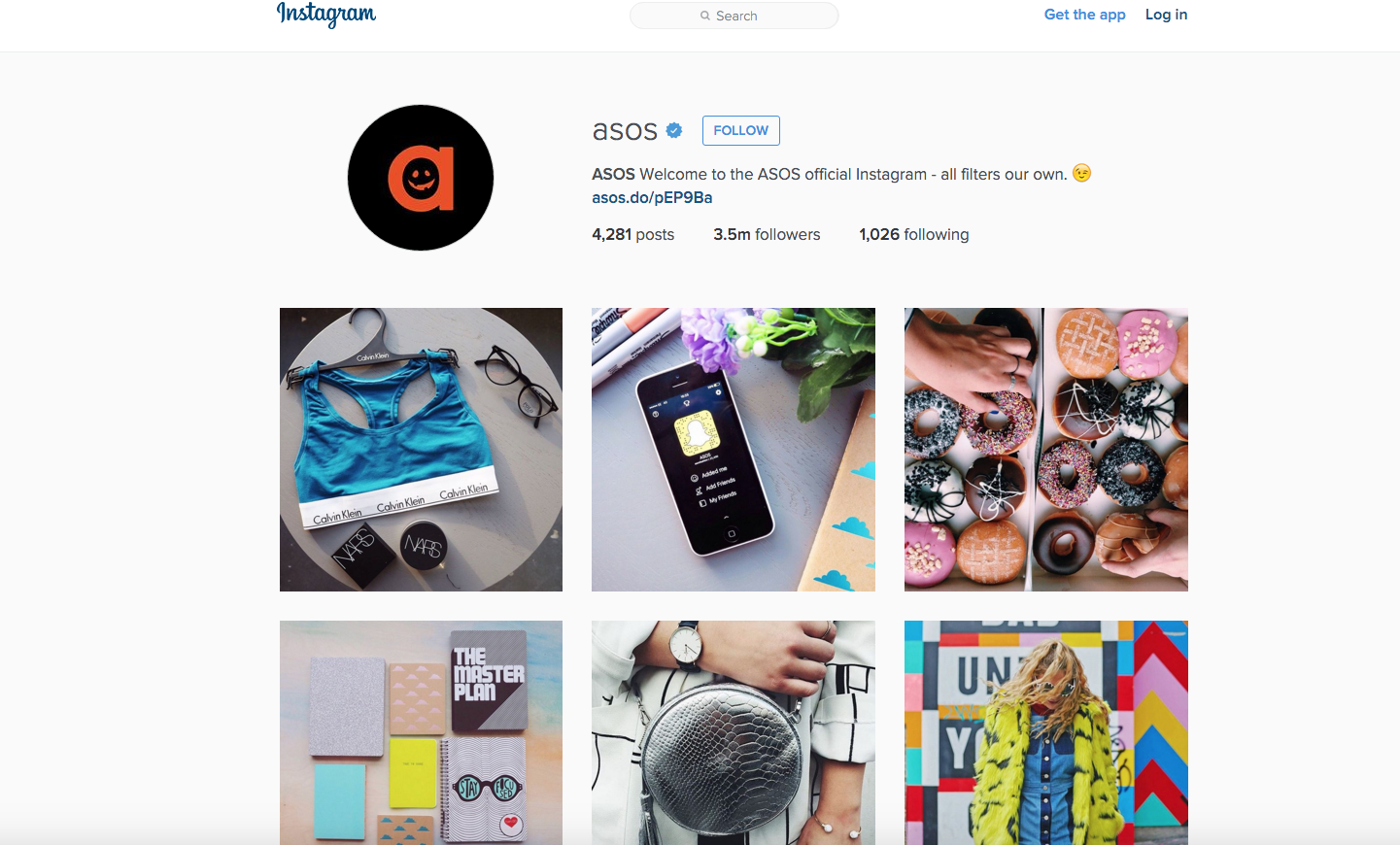 It's important to remember that you shouldn't just change your image on social media and assume everything is sorted. Social media is the place to discuss the holidays with your followers. Be the type of brand you would like to follow; interact with your followers, ask them how they are going to spend the holiday, give them tips for a super scary Halloween or present them with a holiday guide you have found. Don't forget to mention the products and services you offer.
The potential of social media is extraordinary and with the right, engaging post you are seconds away from growing your online presence.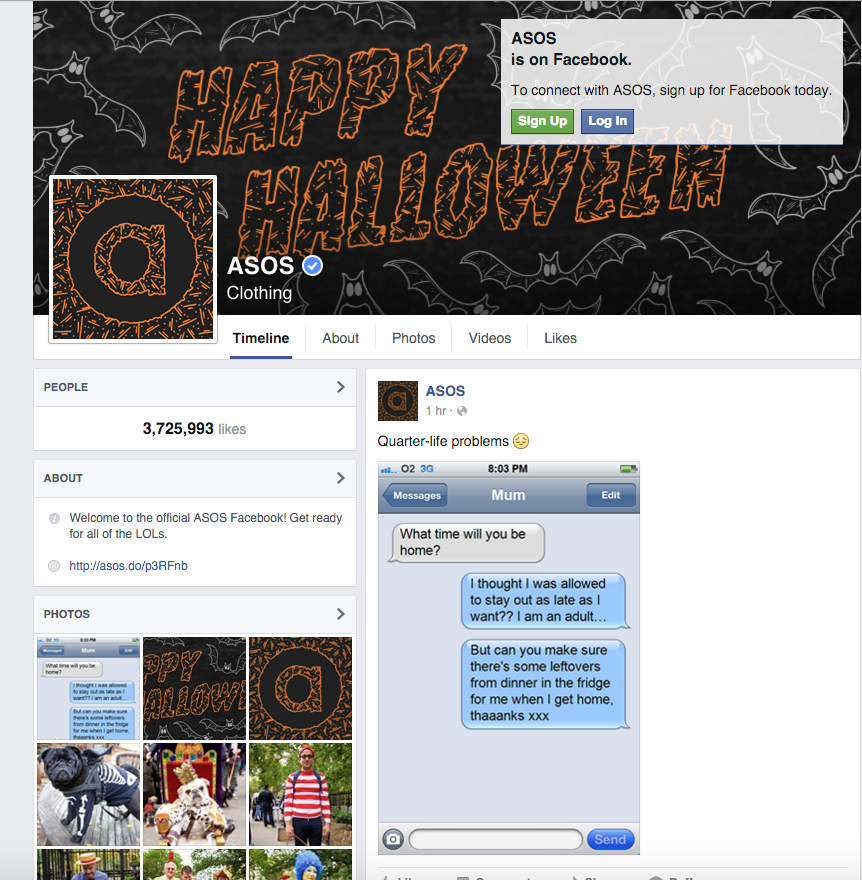 Don't forget email
This is the perfect time of year to enhance customer loyalty, and why not start with your mailing list? I get a few emails a week, I would say, from ASOS. Obviously I look at them because I'm keen to learn about new fashion trends for that season and see what they are currently promoting. This Halloween email from ASOS is a great example of how they completed took on the holiday across all their digital marketing platforms, and their latest promotion geared towards Halloween. Your customers are in your mailing list for a reason so take advantage of this and let them know what your business is up to during the holidays.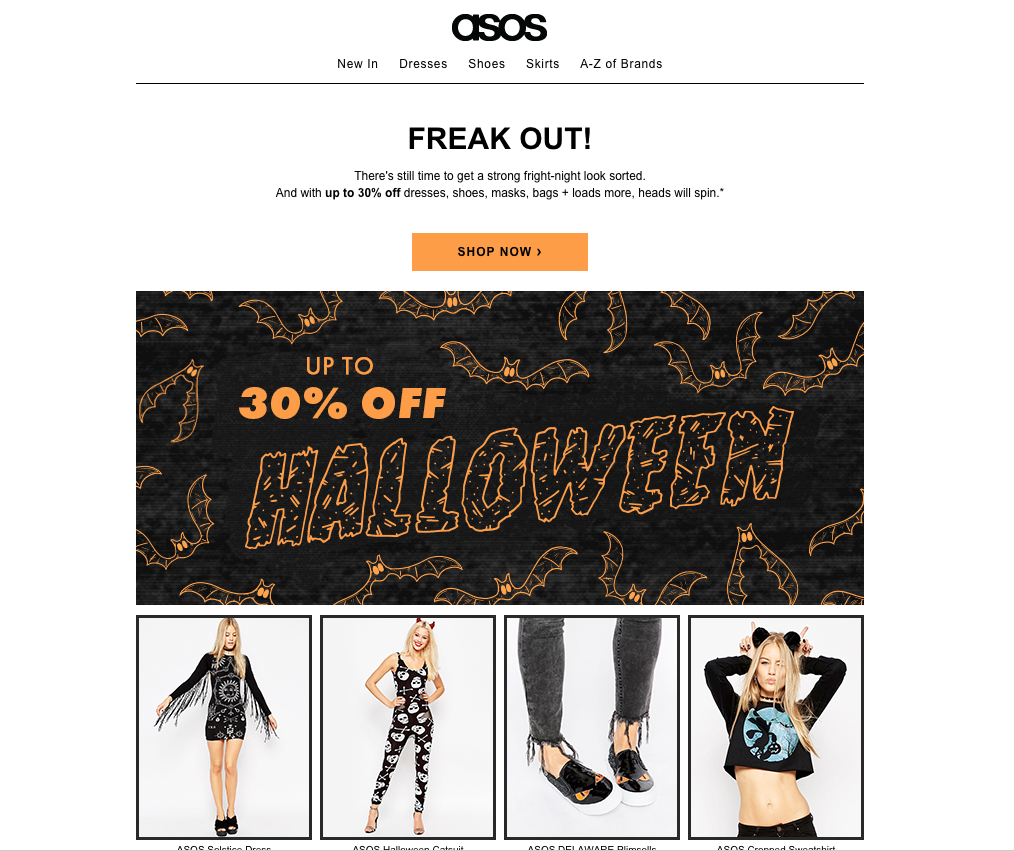 Your Website
Don't forget to remember that potential customers visiting your site may not already follow you on social media or subscribe to your mailing list. Let customers know what your brand is doing for the holidays. Do you have certain new products or services geared towards the event such as ASOS highlighting their Halloween costume outfits on their homepage? By doing this, ASOS are letting people know what is in their collection for Halloween and are likely to turn window shoppers into customers with their clear link on the homepage.
ASOS also made more scary changes to their website by adding moving bats to their homepage. I'm interested to see what they have in store for their Christmas homepage, maybe a snowy background?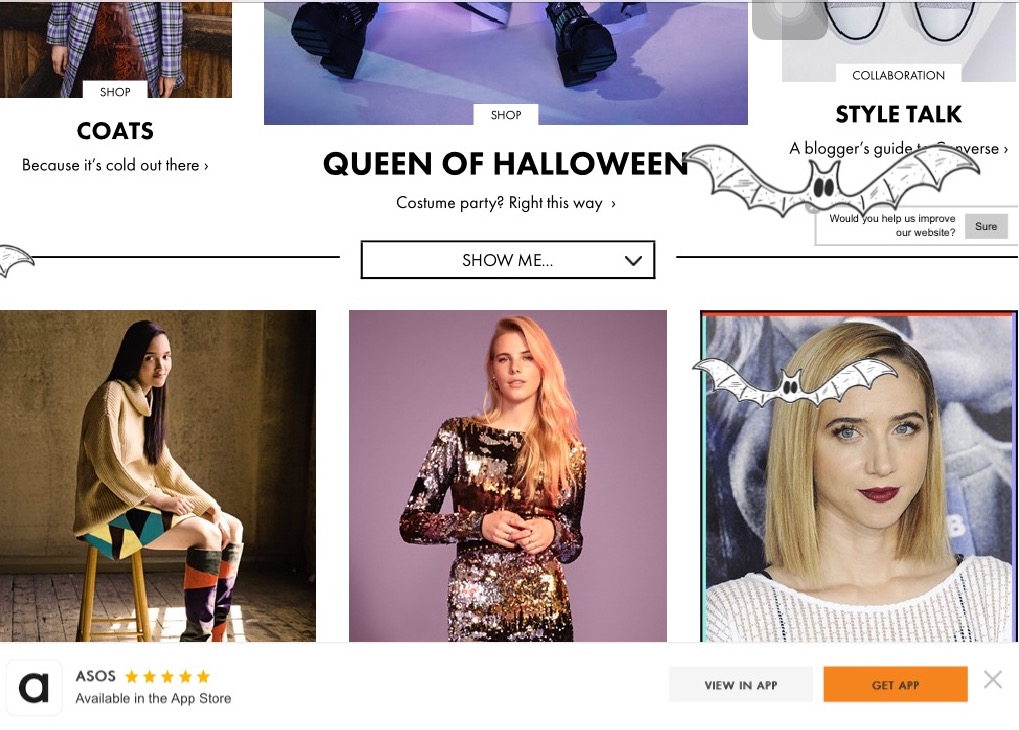 Holiday promotion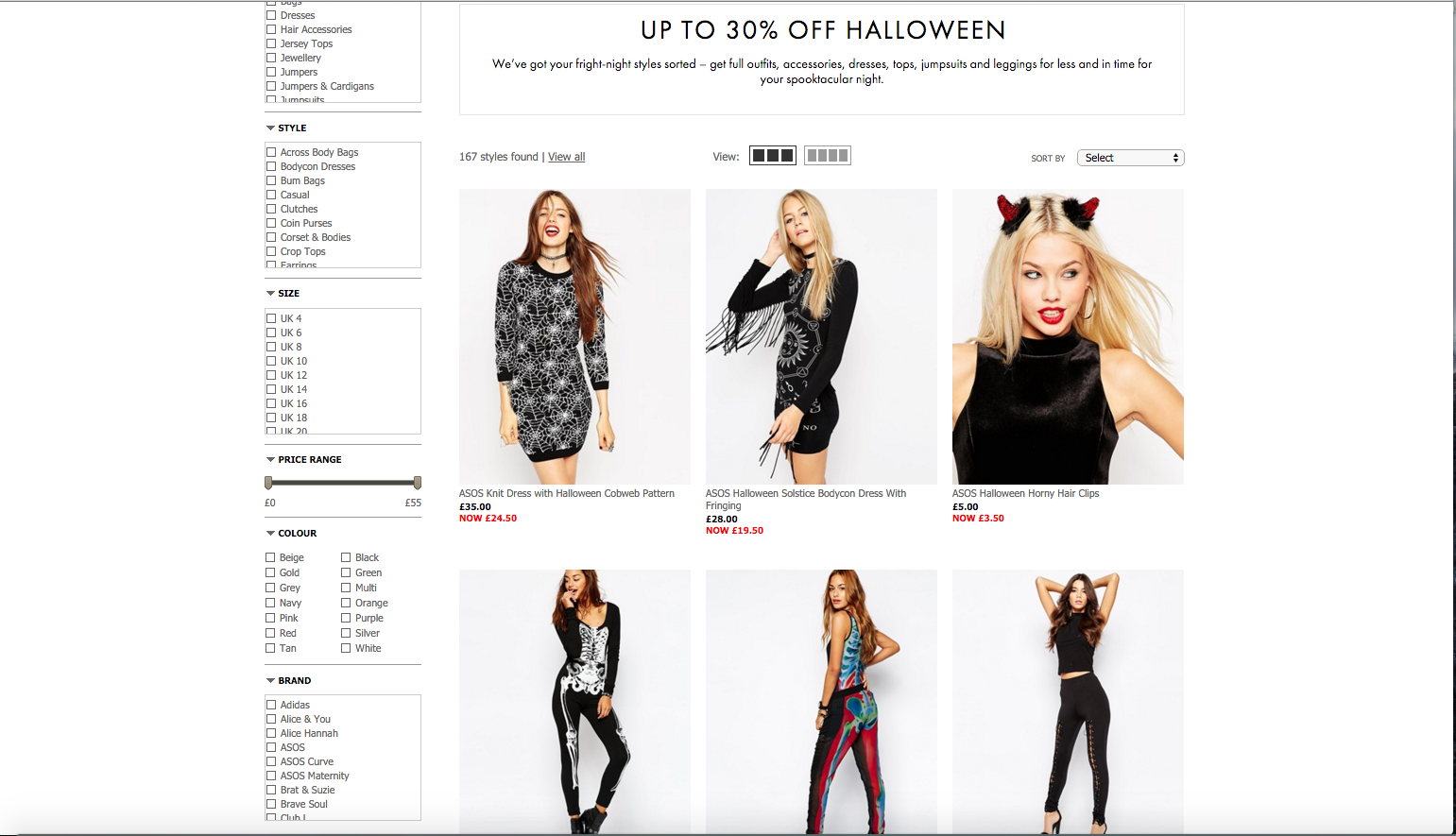 You may remember that ASOS mentioned a special Halloween discount on their holiday email. They remind their customers of the promotion again on the Halloween page. This is important because anyone that doesn't get their emails is still aware of the deal when they get to the page; we all love a bargain! If you don't sell certain products or services that would fit in with the holiday theme, you could offer free delivery or a certain promotion during the festive time. Also, have a think about what you can do in terms of promotion during the next few big holidays such as Black Friday and Christmas. ASOS have already moved their attention to Christmas.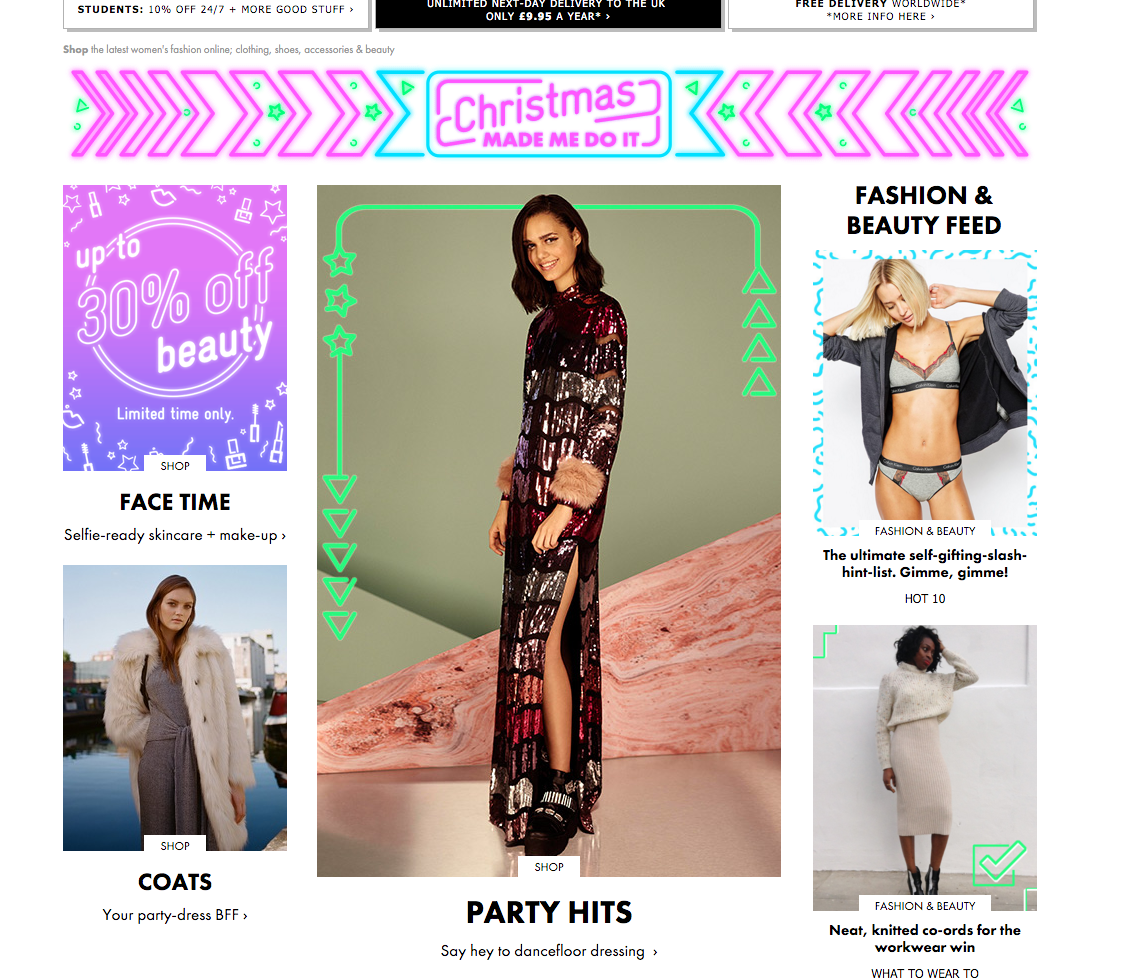 You may question whether there is really any need to do marketing during holidays, but the answer is definitely yes - you really should. If your business isn't a retailer or your focus is on B2B sales, do the basics and try and think of innovative ways you can highlight to your customers how your brand celebrates the holiday. The key point is to humanise your brand, develop a relationship with your customers and engage with them, and during a build up to a holiday is the perfect opportunity to do so.
If you need some advice on your holiday marketing or keen to develop a new marketing campaign please contact us, Smoof would love to learn what your needs and ideas are and the team are always here to help!